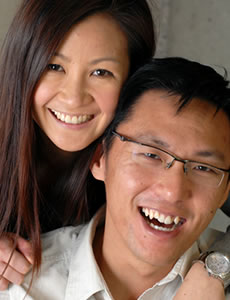 Wei-en & Magdalene Lim
Wei-en Lim grew up in Singapore reading the books of J.I. Packer, Eugene Peterson, and Paul Stevens, their words deeply impacting his life. So when Wei-en decided to pursue theological education, after working with disadvantaged youth in Singapore with Youth for Christ and as a youth worker in his home church, Regent seemed like the natural choice. When he decided to do his Master of Divinity degree at Regent, his wife Magdalene—a performing artist who has been involved in television, live hosting, and acting for theatre, television, and film—flipped through the Regent catalogue and decided that she should also study, pursuing a Diploma of Christian Studies.
It has not been an easy journey for them. "Leaving home and life (as we used to know it) and moving halfway across the world to engage in deep philosophical and theological concepts has been challenging," says Wei-en. "Having said that, God has used various means—lectures, books, and interactions with faculty and fellow students—to give me insight about him and his ways in the world." Magdalene describes her experience of Regent as both refreshing and intense: "It's refreshing because we get to take a break from everything we used to do and come away to a place where nobody knows us. But it's also intense, because not only do I get overwhelmed by big fat words like 'epistemology,' 'phenomenology,' and 'incommensurability'—eight syllables, no less!—God is also doing a deep work within me and teaching me what it means to be human."
When he graduates, Wei-en plans to return to Singapore to serve in his church there, while Magdalene hopes to pursue at least one of her various dreams: going back to acting, producing a documentary that exposes the farming practices of food sources in Singapore, being a worship coordinator in a church, or opening a bakery café.