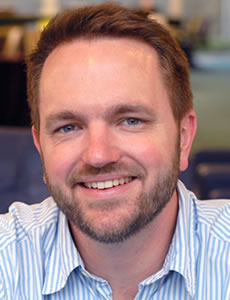 Matt McCoy: Building Theological Foundations
Matt McCoy, born and raised in Texas, owned his own construction company before coming to Regent. He led a small group at his church and always wanted to study theology in more depth, but between his work and having three kids, he was never able to do so. Finally, his construction company got to the point where he needed to increase his hours, move to a bigger city, or step out of the company altogether. Not wanting to take more time away from his wife Denise and their children, Matt made the decision to step out of the business world for a time, and began looking at theology schools in the area.
It was Denise who widened the search, suggesting they should take this time to go on an adventure somewhere—live somewhere new. Matt was initially attracted to Regent College because of its international flavor. Both he and Denise were asking questions of their faith, and they valued the opportunity to ask them in a place with unique and varied perspectives—a place where theology was applied more broadly than to pastoral ministry. Matt states of his time at Regent: "It's been a lot of hard work. I miss the business world: working together with a group of people toward a common goal. Now it's often just me and the books, which is sometimes lonely." But he also states, "I spend a lot of my days being grateful…It's been marvelous to have the space to answer some of the deep burning questions within me about life and the Bible."
Upon graduation, Matt was chosen as the student speaker for convocation. Given his line of work, it was only natural for him to reflect upon Regent as a theological foundation construction company. "In a time when so many people who teach theology are interested in trim carpentry or flooring," Matt said, "let me express my gratitude that there is still a place like Regent that builds foundations."
Join RCF In Theological Foundation-Building
Develop Your Own Theological Foundations at Regent College