Monthly Giving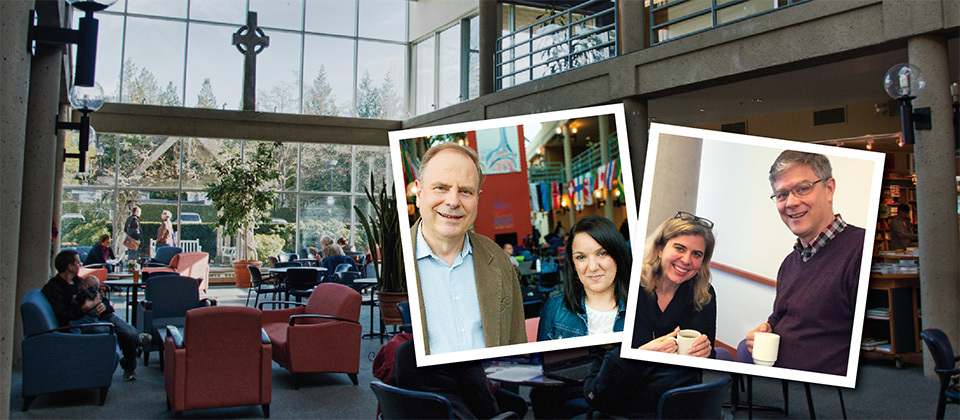 We all share a commitment to building a sustainable future for Regent, and we all practice this commitment through monthly giving. We're doing what we can because we know it makes a difference.
Would you join us?
Click Here to Start Giving Monthly

Consider this: if half of Regent's graduates made a monthly gift of just $20, Regent would receive about $600,000 a year in new revenue. That's huge! That's what we can do together.
Imagine how hard it would be to create a personal budget or plan for the future if your income differed dramatically from month to month. That's the position Regent is in. It's part of being a school, but it's also a huge challenge. Monthly gifts don't just pay bills, they create stability by smoothing out the highs and lows. When you give monthly, you're making a vital, concrete contribution to Regent's long-term financial well-being.
Mandy Thayil

Alumna (MA '14); monthly donor since 2015
"When I was a student, I remember thinking, 'I need to hang on to this moment and know it's a gift. One day, I want to help other people have this experience.' Soon after graduating, I felt challenged to get started, despite the financial uncertainties I faced as a part-time non-profit worker. Monthly giving let me set aside a reasonable amount given my circumstances, so the whole thing felt manageable. A few years later, I'm really happy with that decision. My Regent experience is a gift that keeps on giving, and giving back each month keeps me connected to this community."
Bill Reimer

Bookstore Manager; monthly donor since 1998
"Back when I was a university student struggling to make sense of Christian faith, Regent stood out like a beacon of hope. I jumped at the chance to become a bookseller here, and since then I've seen Regent serve as a destination and shelter for thousands of students thirsting to know more about "mere Christianity" and grow in faithful discipleship to Jesus Christ. Regent is a unique place of Christian thought and devotion on a major university campus, and it's worthy of support in a time when Christian centres are increasingly fragile."
Connally Gilliam

Board of Governors; monthly donor since 2014
"I decided to set up monthly giving because, frankly, if I want Regent to have my money, this is the best way to do it. My life is full of complexity and data points, and this way I can be sure that supporting Regent won't slip through the cracks. I raise support for my position at Navigators, and I know how much recurring gifts help my budgeting process! I hope more supporters join me as monthly donors because the things Regent provides—deep discipleship and rigorous academics in a communal context—are important for the sustainability of God's Kingdom in North America."
Bruce Hindmarsh

James Houston Professor of Spiritual Theology; monthly donor since 2002
"When Carolyn and I were missionaries with Youth for Christ, we had to depend entirely on donations as we pursued a mission to see lives changed by the gospel. When we came to Regent, we discovered that this is a place where lives are forever changed by the gospel. On faculty, we are every bit as much missionaries as ever. We know from experience that regular giving lays a foundation of stability and health for missional work. It would be outstanding if all those who feel that God has his hand on the College would join us as underwriters of the mission."